Boiler Electric Control
Electric Control Container Overview
2-4T 6T 10T 15T 20T 25T
Sheet 1:
2t steam boiler electrical instrument control system configuration (common configuration 1.25Mpa)
Features

name

Specification

unit

Qty

Brand

Electrical control

 

 

 

 

 

Induced draft fan control

11KW

 

Star Delta Start

 

set

 

1

 

Zhengtai

Blower control

 

3KW

 

Direct start

 

set

 

1

 

Grate control

 

0.55KW

 

Direct start

 

set

 

1

 

Coal machine control

1.1KW

 

Direct start

 

set

 

1

 

Slag machine control

1.1KW

 

Direct start

 

set

 

1

 

Feed water pump control

7.5KW

 

Direct start

 

set

 

2

annex

Including wires, buttons, indicator lights, trunking, relays, etc.

set

1

Control cabinet

1100×800×550

Set

1

Wuxi Huxing
4t steam boiler electrical instrument control system configuration (common configuration 1.25Mpa)
Features

name

Specification

unit

Qty

Brand

Electrical control

 

 

 

 

 

Induced draft fan control

22KW

 

Star Delta Start

 

set

 

1

 

Zhengtai

Blower control

 

5.5KW

 

Direct start

 

set

 

1

 

Grate control

 

0.55KW

 

Direct start

 

set

 

1

 

Coal machine control

1.1KW

 

Direct start

 

set

 

1

 

Slag machine control

1.1KW

 

Direct start

 

set

 

1

 

Feed water pump control

7.5KW

 

Direct start

 

set

 

2

annex

Including wires, buttons, indicator lights, trunking, relays, etc.

set

1

Control cabinet

1100×800×550

Set

1

Wuxi Huxing

Sheet 2: 6T
6t steam boiler electrical instrument control system configuration (common configuration 1.25Mpa)
Features

name

Specification

unit

Qty

Brand

Secondary instrument

Furnace temperature indication

 

Intelligent digital display

XMT-7000

 

Pc

1

Luen Thai Instrument

 

Exhaust temperature indication

 

Intelligent digital display

XMT-7000

Pc

1

Steam pressure indication

 

Intelligent digital display

XMT-7000

Pc

1

Water pressure indication

 

Intelligent digital display

XMT-7000

Pc

1

Drum water level indicator

Water level alarm

SZD-B

Pc

1

Wuxi Xinxing

 

Drum water level adjustment

Water level regulator

SZD-A

 

Pc

1

One time meter

Furnace temperature detection

Thermocouple

WPN-130 KL=750

Pc

1

Yangshi Thermal Engineering

Exhaust smoke temperature detection

Thermocouple

WRE-130 EL=750

Pc

1

Steam pressure detection

Remote pressure gauge

YTZ-150 2.5MPA

Pc

1

Shanghai Shenjie

 

Water pressure detection

Remote pressure gauge

YTZ-150 2.5MPA

Pc

1

Furnace negative pressure indication

Bellows table

YEJ-101±120Pa

Pc

1

Drum water level detection

liquid level sensor

L=440

Pc

2

Hangzhou Feidi

 

Continuous water supply

Electric control valve

 

ZAZP25

 

Pc

1

Suzhou Hongda

 

Electrical control

Induced draft fan control

 

37KW

 

Star Delta Start

 

Set

1

Zhengtai

 

Blower control

 

7.5KW

 

Star Delta Start

Set

1

Grate control

0.75KW

Direct start

Set

1

Coal machine control

1.5KW

Direct start

Set

1

Slag machine control

1.5KW

Direct start

Set

1

Feed water pump control

7.5KW

 

Direct start

Set

2

annex

 

Including wires, buttons, indicator lights, trunking, relays, etc.

Set

1

 

Cabinet shell

1500×1200×900

Set

1

Wuxi Huxing
 Sheet 3: 10T
10t steam boiler electrical instrument control system configuration (common configuration 1.25Mpa)
Features

name

Specification

unit

Qty

Brand

Secondary instrument

Furnace temperature indication

 

Intelligent digital display

XMT-7000

 

Pc

1

Luen Thai Instrument

 

Exhaust temperature indication

 

Intelligent digital display

XMT-7000

Pc

1

Steam pressure indication

 

Intelligent digital display

XMT-7000

Pc

1

Water pressure indication

 

Intelligent digital display

XMT-7000

Pc

1

Drum water level indicator

Water level alarm

SZD-B

Pc

1

Wuxi Xinxing

 

Drum water level adjustment

Water level regulator

SZD-A

 

Pc

1

One time meter

Furnace temperature detection

Thermocouple

WPN-130 KL=750

Pc

1

Yangshi Thermal Engineering

Exhaust smoke temperature detection

Thermocouple

WRE-130 EL=750

Pc

1

Steam pressure detection

Remote pressure gauge

YTZ-150 2.5MPA

Pc

1

Shanghai Shenjie

 

Water pressure detection

Remote pressure gauge

YTZ-150 2.5MPA

Pc

1

Furnace negative pressure indication

Bellows table

YEJ-101±120Pa

Pc

1

Drum water level detection

liquid level sensor

L=440

Pc

2

Hangzhou Feidi

 

Continuous water supply

Electric control valve

 

ZAZP25

 

Pc

1

Suzhou Hongda

 

Electrical control

Induced draft fan control

 

55KW

 

Star Delta Start

 

Set

1

Zhengtai

 

Blower control

 

15KW

 

Star Delta Start

Set

1

Grate control

1.1KW

Direct start

Set

1

Coal machine control

1.5KW

Direct start

Set

1

Slag machine control

1.5KW

Direct start

Set

1

Feed water pump control

15KW

 

Direct start

Set

2

annex

 

Including wires, buttons, indicator lights, trunking, relays, etc.

Set

1

 

Cabinet shell

1500×1200×900

Set

1

Wuxi Huxing
Sheet 4: 15T
15t steam boiler electrical instrument control system configuration (common configuration 1.25Mpa)
Features

name

Specification

unit

Qty

Brand

Secondary instrument

Furnace temperature indication

 

Intelligent digital display

XMT-7000

 

Pc

1

Luen Thai Instrument

 

Exhaust temperature indication

 

Intelligent digital display

XMT-7000

Pc

1

Steam pressure indication

 

Intelligent digital display

XMT-7000

Pc

1

Water pressure indication

 

Intelligent digital display

XMT-7000

Pc

1

Drum water level indicator

Water level alarm

SZD-B

Pc

1

Wuxi Xinxing

 

Drum water level adjustment

Water level regulator

SZD-A

 

Pc

1

One time meter

Furnace temperature detection

Thermocouple

WPN-130 KL=750

Pc

1

Yangshi Thermal Engineering

Exhaust smoke temperature detection

Thermocouple

WRE-130 EL=750

Pc

1

Steam pressure detection

Remote pressure gauge

DFY-600 2.5MPA

Pc

1

Shanghai Shenjie

 

Water pressure detection

Remote pressure gauge

DFY-600 2.5MPA

Pc

1

Furnace negative pressure indication

Bellows table

YEJ-101±120Pa

Pc

1

Drum water level detection

liquid level sensor

YEJ-101-4KPa

Pc

2

Hangzhou Feidi

 

Continuous water supply

Electric control valve

 

L=440

Pc

1

Suzhou Hongda

 

Electrical control

Induced draft fan control

75KW

Star Delta Start

Set

1

Zhengtai

 

Blower control

 

22KW

Star Delta Start

Set

1

Grate control

1.5KW

Direct start

Set

1

Coal machine control

2.2KW

Direct start

Set

1

Slag machine control

2.2KW

Direct start

Set

1

Feed water pump control

30KW

Direct start

Set

2

annex

 

Including wires, buttons, indicator lights, trunking, relays, etc.

Set

1

 

Instrument cabinet

1700×950×900

Set

1

Wuxi Huxing

Power cabinet

1700×800×600

Set

1
Sheet 5: 20T
20t steam boiler electrical instrument control system configuration (common configuration 1.25Mpa)
Features

name

Specification

unit

Qty

Brand

Secondary instrument

Furnace temperature indication

 

Intelligent digital display

XMT-7000

 

Pc

1

Luen Thai Instrument

 

Exhaust temperature indication

 

Intelligent digital display

XMT-7000

Pc

1

Steam pressure indication

 

Intelligent digital display

XMT-7000

Pc

1

Water pressure indication

 

Intelligent digital display

XMT-7000

Pc

1

Drum water level indicator

Water level alarm

SZD-B

Pc

1

Wuxi Xinxing

 

Drum water level adjustment

Water level regulator

SZD-A

 

Pc

1

One time meter

Furnace temperature detection

Thermocouple

WPN-130  K  L=750

Pc

1

Yangshi Thermal Engineering

Exhaust smoke temperature detection

Thermocouple

WRE-130  E  L=750

Pc

1

Steam pressure detection

Remote pressure gauge

DFY-600 2.5MPA

Pc

1

Wu Xi Xin Xing

Water pressure detection

Remote pressure gauge

DFY-600 2.5MPA

Pc

1

Furnace negative pressure indication

Bellows table

YEJ-101±120Pa

Pc

1

Shang Hai

Shen Jie

Air Draft negative pressure indication

Bellows table

YEJ-101-4KPa

Pc

1

Air Blow negative pressure indication

Bellows table

YEJ-101 4KPa

Pc

1

Drum water level detection

liquid level sensor

L=440

Pc

2

Hangzhou Feidi

 

Continuous water supply

Electric control valve

 

ZAZP40

Pc

1

Suzhou Hongda

 

Electrical control

Induced draft fan control

110KW

Star Delta Start

Set

1

Zhengtai

 

Blower control

 

30KW

Star Delta Start

Set

1

Grate control

1.5KW

Direct start

Set

1

Coal machine control

2.2KW

Direct start

Set

1

Slag machine control

2.2KW

Direct start

Set

1

Feed water pump control

30KW

Direct start

Set

2

annex

 

Including wires, buttons, indicator lights, trunking, relays, etc.

Set

1

 

Instrument cabinet

1700×950×900

Set

1

Wuxi Huxing

Power cabinet

1700×800×600

Set

2
 Sheet 6: 25T
25t steam boiler electrical instrument control system configuration (common configuration 1.25Mpa) 
Features

name

Specification

unit

Qty

Brand

Secondary instrument

Furnace temperature indication

 

Intelligent digital display

XMT-7000

 

Pc

1

Luen Thai Instrument

 

Exhaust temperature indication

 

Intelligent digital display

XMT-7000

Pc

1

Steam pressure indication

 

Intelligent digital display

XMT-7000

Pc

1

Water pressure indication

 

Intelligent digital display

XMT-7000

Pc

1

Drum water level indicator

Water level alarm

SZD-B

Pc

1

Wuxi Xinxing

 

Drum water level adjustment

Water level regulator

SZD-A

 

Pc

1

One time meter

Furnace temperature detection

Thermocouple

WPN-130  K  L=750

Pc

1

Yangshi Thermal Engineering

Exhaust smoke temperature detection

Thermocouple

WRE-130  E  L=750

Pc

1

Steam pressure detection

Remote pressure gauge

DFY-600 2.5MPA

Pc

1

Wu Xi Xin Xing

Water pressure detection

Remote pressure gauge

DFY-600 2.5MPA

Pc

1

Furnace negative pressure indication

Bellows table

YEJ-101±120Pa

Pc

1

Shang Hai

Shen Jie

Air Draft negative pressure indication

Bellows table

YEJ-101-4KPa

Pc

1

Air Blow negative pressure indication

Bellows table

YEJ-101 4KPa

Pc

1

Drum water level detection

liquid level sensor

L=440

Pc

2

Hangzhou Feidi

 

Continuous water supply

Electric control valve

 

ZAZP40

Pc

1

Suzhou Hongda

 

Electrical control

Induced draft fan control

132KW

Star Delta Start

Set

1

Zhengtai

 

Blower control

 

55KW

Star Delta Start

Set

1

Grate control

2.2KW

Direct start

Set

1

Coal machine control

2.2KW

Direct start

Set

1

Slag machine control

2.2KW

Direct start

Set

1

Feed water pump control

30KW

Direct start

Set

2

annex

 

Including wires, buttons, indicator lights, trunking, relays, etc.

Set

1

 

Instrument cabinet

1700×950×900

Set

1

Wuxi Huxing

Power cabinet

1700×800×600

Set

2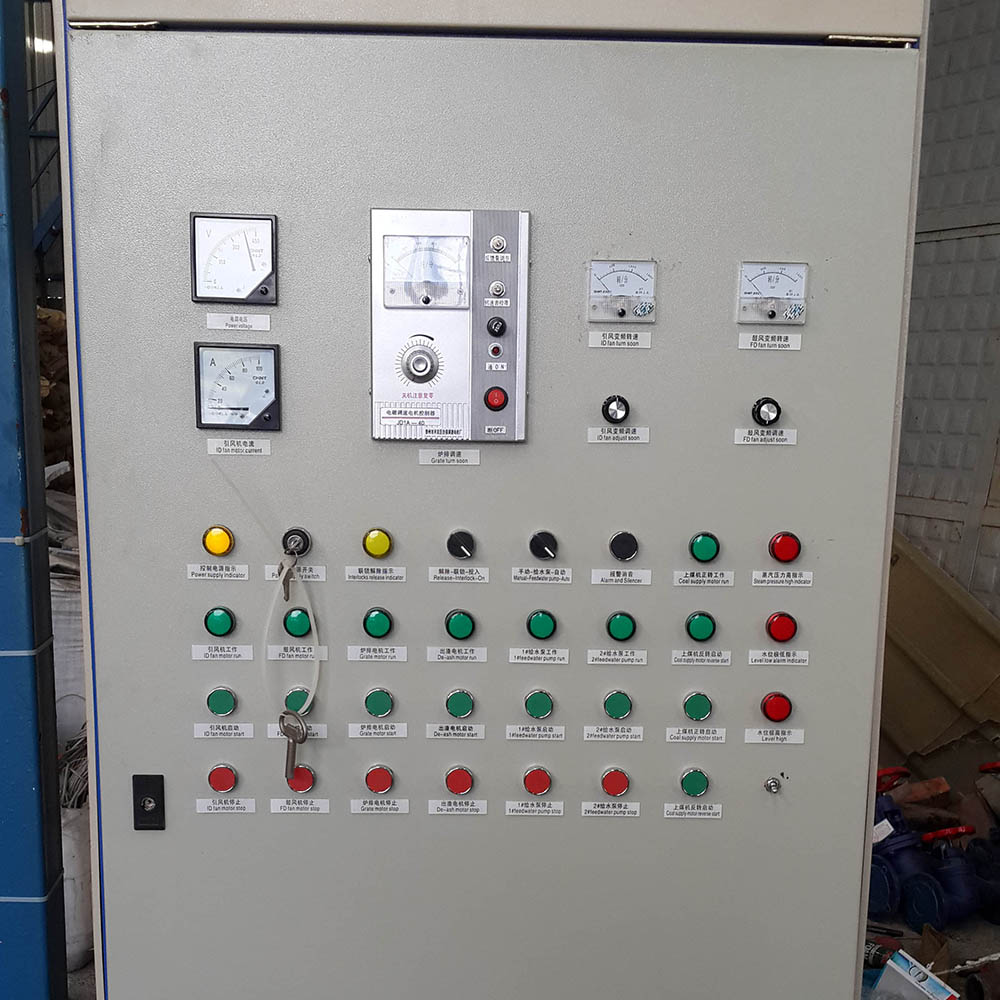 ---
Previous:
Coal Boiler Biomass Boiler Slag Remover
---
Write your message here and send it to us
Related products
Coal Steam Boiler-Used in Foods, Textile, Plywood,Paper Brewery,Rice Mill etc.. Introduction : SZL Series assembled water tube boiler adopts longitudinal double drum chain grate boiler. The boiler body is composed of up& down longitudinal drums and convection tube, best heating surface, high thermal efficiency, reasonable design, compact structure, elegant appearance, adequate effect. Two side of Combustion chamber equipped the light pipe water wall tube, up drum equip steam ...

Introduction : Single Drum Chain Grate Coal fired boiler is horizontal three-back water fire pipe composite boiler. Fix fire tube in drum and the light pipe water wall is fixed on the right and left sides of the furnace. With light chain grate stoker for mechanical feeding and by the draft fan and blower for mechanical ventilation, realize mechanical taphole by scraper slag remover. The hopper of fuel drops to grate bar, then enter furnace for burning, by the ashes room above the back arch, t...