Single Drum Steam Boiler
Single Drum Chain Grate Coal fired boiler is horizontal three-back water fire pipe composite boiler. Fix fire tube in drum and the light pipe water wall is fixed on the right and left sides of the furnace. With light chain grate stoker for mechanical feeding and by the draft fan and blower for mechanical ventilation, realize mechanical taphole by scraper slag remover.
The hopper of fuel drops to grate bar, then enter furnace for burning, by the ashes room above the back arch, the flame gets through the first backhaul fire tube to front smokebox, then turn back from front smokebox to the second flue for economizer and dust collector, at last, released into the atmosphere by the draft fan through chimney.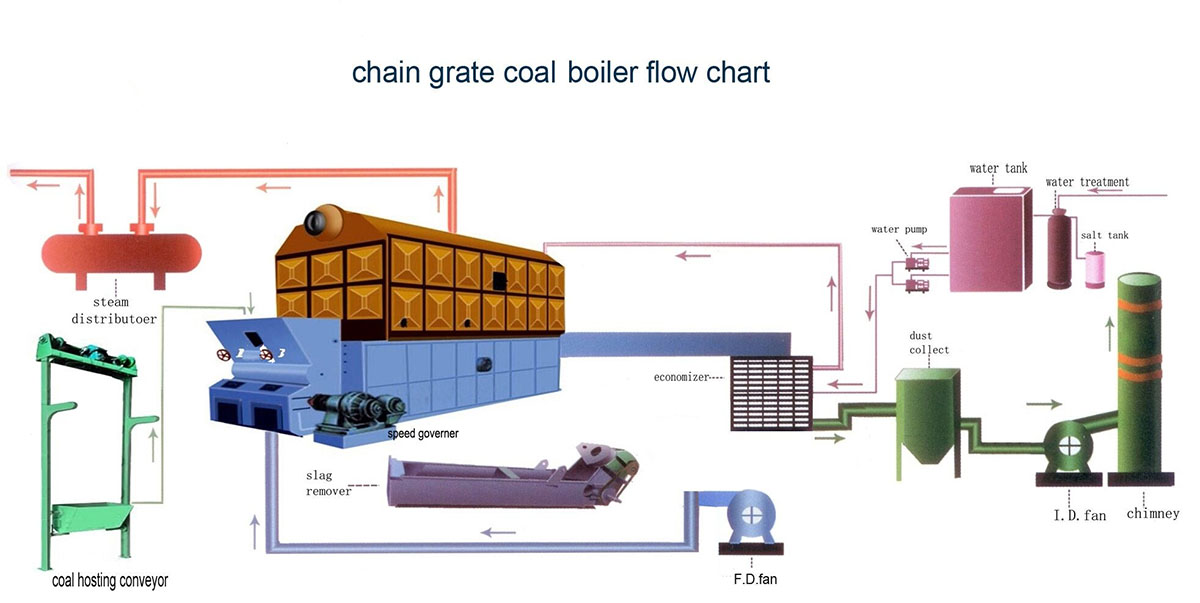 DZG(L)Horizontal Type Coal-Burning Steam Boiler
Main Technology Parameter List
Model 
DZG1-0.7-A II
DZG1-1.0-A II
DZG1-1.25-A II
DZG2-1.0-A II
DZG2-1.25-A II
DZG2-1.57-AII
DZG4-1.25-A II
DZG4-1.57-A II 
DZL1-0.7-A II
DZL1-1.0- A II
DZL1-1.25- A II
DZL1-1.57- A II
DZL1-2.45- A II
Rated Capacity T/h
1
2
4
1
Rated Working Pressure Mpa
0.7/1.0/1.25
1.0/1.25/1.57
1.25/1.57
0.7/1.0/1.25/1.57/2.45
Rated Steam Temp. ℃
170/183/194
183/194/204
194/204
170/183/194/204/226
Feed Water Temp. ℃
20
20
20
20
Fuel Consumption  Kg/H
170
330
600
170
Thermal Efficiency  %
77
77
78
78
Heating Surface m²
Boiler Body
32.4
33.85
75.75
32.4
Economizer
12.51
24.64
38.5
12.51
Grate area   m²
1.37
2.3
2.05
Designed Fuel  Type
Bituminous Coal
Bituminous Coal
Bituminous Coal
Bituminous Coal
Max. Transport Weight  T
10.6
19.6
26.5
13.3
Max. Transport Dimension  m
4.75x2.1x2.6
5.7x3.4x4.6
5.49x2.6x3.5
5.65x2.1x2.6
Boiler Auxiliary Equipment Model and Specification
Air Blower
Model
T4-72-11;3.2A;Right225°
T4-72-11;3.2A;Righ 315°
T4-72-11;4A; Right 315°
T4-72-11;3.2A; Right 225°
Motor Power
N=1.5 Kw
N=3 Kw
N=5.5 Kw
N=1.5 Kw
Draft Fan
Model
YX9-35-11;5C ; Right 0°
Y-9-26;6.3C ; Right 0°
Y-9-26;9D;Right 0°
YX 9-35-11;5C; Right 0°
Motor Power
N=5.5 Kw
N=11 Kw
N=22 Kw
N=5.5 Kw
Gear Box
Model
GL-5P
Motor Power
N=0.55 Kw
Feed Water Pump
Model
1.5WCT-120
1½ GC5x7
1½ GC5x7
1.5WCT-120
Motor Power
N=2.2 Kw
N=7.5 Kw
N=7.5 Kw
N=2.2 Kw
Dust Remover
Model
XD-1
XD-2
XD-4
XD-1
Model
DZL2-1.0-AII
DZL2-1.25-AII
DZL2-1.57-AII
DZL2-2.45-AII   
DZL4-1.25-AII
DZL4-1.57-AII
DZL4-2.45-AII 
DZL6-1.25-AII
DZL6-1.57-AII
DZL6-2.45-AII 
DZL8-1.57-AII
DZL10-1.25-AII
DZL10-1.57-AII
DZL10-2.45-AII
Rated Capacity T/h
2
4
6
8
10
Rated Working Pressure Mpa
1.0/1.25/1.57/2.45
1.25/1.57/2.45
1.25/1.57/2.45
1.57
1.25/1.57/2.45
Rated Steam Temp. ℃
183/194/204/226
194/204/226
194/204/226
203.04
194/204/226
Feed Water Temp. ℃
20
20
20/60
20
20/60
Fuel Consumption  Kg/H
~310
~590
~900
~1200
~1440
Thermal Efficiency  %
78
80
77.44
78
80.6
Heating Surface m²
Boiler Body
33.85
75.75
142
205
347
Economizer
24.64
38.5
87.2
139.52
Grate area   m²
3.5
4.66
7.4
8.4
10.98
Designed Fuel Type
Bituminous Coal
Bituminous Coal
Bituminous Coal
Bituminous Coal
Max.Transport Weight  Ton
21
26.5
38
33
28/29
Max. Transport Dimension  m
5.9x2.2x3.3
6.5x2.6x3.524
7.4x3.2x4.2
8.1x3.2x4.2
7.6x3.2x3.5
Boiler Auxiliary Equipment Model and Specification
Air Blower
Model
T4-72-11;3.2A;Right315°
T4-72-11;4A;Righ 315°
T4-72-11;5A; Right 225°
GG8-Na

;

7.1A; Right 225°
10TG811DRight 225°
Motor Power
N=3 Kw
N=5.5 Kw
N=11 Kw
N=11 Kw
N=15 Kw
Draft Fan
Model
Y9-26

;

6.3C; Right 0°
Y-9-26;9D; Right 0°
Y-8-39;9D;Right 0°
GY8-1;Na9.5D;Right 0°
10JY;9.5D; Right 0°
Motor Power
N=11 Kw
N=22 Kw
N=30Kw
N=37Kw
N=45 Kw
Gear Box
Model
GL-5P
GL-5P
GL-10P
GL-16P
Motor Power
N=0.55 Kw
N=0.55 Kw
N=1.1 Kw
N=1.1 Kw
Feed Water Pump
Model
1½ GC 5x7
1½ GC 5x7
DG 6-25x7
2GC-5xT
1½ GC 6x6
Motor Power
N=7.5 Kw
N=7.5 Kw
N=7.5 Kw
N=22 Kw
N=2.2 Kw
Dust Remover
Model
XD-2
XD-4
XD-6
XD-8
XD-10
---
Previous:
Single Drum Hot Water Boiler
Next:
LPG Pressure Tank
---
Write your message here and send it to us