Autoclave and Boiler
Autoclave-Popular used in ACC Plant,Flyash Plant,Building Material etc..
1, the first domestic production of autoclave professional factory.
2, assembly line production, welding all the automation, quality and stability.
3, all the pressure components 100% X-ray film detection, advanced detection methods.
4, the product as a whole factory, advanced and reasonable structure, short installation period, the investment cost is low.
5, fully furnished, by manual or computer control.
    Autoclave use:
    Autoclave steam curing equipment for large, can be used for steam-cured sand lime bricks, fly ash bricks, aerated concrete blocks, high-strength concrete pole, pipe and other concrete products, but also for timber, medicine, chemical industry, glass, insulation materials and other industries.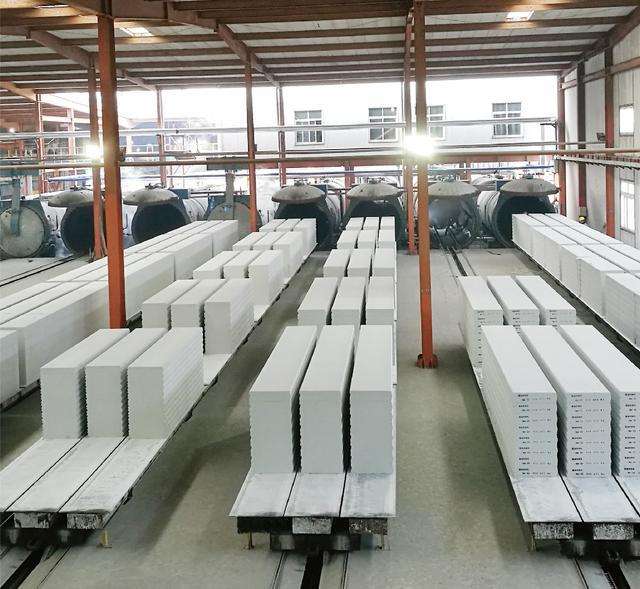 Autoclave Series
Main Technology Parameter List
ModelItem
FGZCS1.0-1.65x21
FGZCS1.3-2x21
FGZCS1.3-2x22
FGZCS1.3-2x26
FGZCS1.3-2x27.5
FGZCS1.3-2x30
Inside Diameter     mm

1650

2000

2000

2000

2000

2000

Effective Length     mm

21000

21000

22000

26000

27500

30000

Design Pressure     Mpa

1.08

1.4

1.4

1.4

1.4

1.4

Design Temperature  ℃

187

197.3

197.3

197.3

197.3

197.3

Working Pressure   Mpa

1.0

1.3

1.3

1.3

1.3

1.3

Working Temperature ℃

183

193.3

193.3

193.3

193.3

193.3

Actuating Medium

Saturated Steam , condensed water

Inside Rail Distance  mm

600

448

600

750

600

600

Effective Volume     m3

46

68

71

84

88.5

96.4

Gross Weight        Kg

18830

25830

26658

30850

32170

34100

Overall Dimension   mm

21966x

2600x2803

22300x

2850x3340

23300x

2850x3340

27300x

2850x3340

28800x

2850x3340

31300x

2850x3340
ModelItem
FGZCS1.5-2.68x22.5
FGZCS1.5-2.68x26
FGZCS1.5-2.68x39
FGZCS1.5-2.85x21
FGZCS1.5-2.85x23
Inside Diameter     mm

2680

2680

2680

2850

2850

Effective Length     mm

22500

26000

39000

21000

23000

Design Pressure     Mpa

1.6

1.6

1.6

1.6

1.6

Design Temperature  ℃

204

204

204

201.3

203

Working Pressure   Mpa

1.5

1.5

1.5

1.5

1.5

Working Temperature ℃

200

200

200

197.3

199

Actuating Medium

Saturated Steam , condensed water

 

Inside Rail Distance  mm

800

800

800

1000

963

Effective Volume     m3

134

154.2

227.5

137

150

Gross Weight        Kg

45140

46700

67480

45140

44565

Overall Dimension   mm

24180x

3850x4268

27650x

3454x4268

40650x

3454x4268

22634x

3462x4495

24900x

3490x4500
ModelItem
FGZCS1.5-2.85x24
FGZCS1.5-2.85x25
FGZCS1.5-2.85x26
FGZCS1.5-2.85x26.5
FGZCS1.5-2.85x27
Inside Diameter     mm

2850

2850

2850

2850

2850

Effective Length     mm

24000

25000

26000

26500

27000

Design Pressure     Mpa

1.6

Design Temperature  ℃

203

Working Pressure   Mpa

1.5

Working Temperature ℃

199

Actuating Medium

Saturated Steam , condensed water

 

Inside Rail Distance  mm

963

849

963

900

915

Effective Volume     m3

150

161

170

173

180

Gross Weight        Kg

46035

48030

54530

54880

55600

Overall Dimension   mm

25900x

3490x4500

26640x

3640x4495

27634x

3640x4495

28134x

3462x4495

28640x

3640x4495
ModelItem
FGZCS1.5-2.85x29
FGZCS1.5-2.85x36
FGZCS1.5-3x23
FGZCS1.5-3x31
FGZCS1.5-3.2x24.5
Inside Diameter     mm

2850

2850

3000

3000

3200

Effective Length     mm

29000

36000

23000

31000

32000

Design Pressure     Mpa

1.6

Design Temperature  ℃

203

Working Pressure   Mpa

1.5

Working Temperature ℃

199

Actuating Medium

Saturated Steam , condensed water

 

Inside Rail Distance  mm

963

900

1220

1000

1200

Effective Volume     m3

190

234

167

227

206

Gross Weight        Kg

58400

70020

56765

70410

62440

Overall Dimension   mm

30634x

3640x4495

37634x

3462x4495

24875x

3516x4804

32875x

3516x4804

26570x

3750x5027
---
Previous:
AAC Autoclave and Boiler
---
Write your message here and send it to us