Installation & Technology Service
Step 1. Slag Extruder put into Foundation|
Step 2. Lift Boiler Body to Foundation . Then install the Platform and Stair.
Step 3.Connect Boiler,Economizer (Down Part) and Gas Flue.
Step 4. Connect Economizer ( Up Parts) and Gas Flue.
Step 5.Use asbest rope to Fix Economizer and Gas Flue. Keep no gas leak.
Step 6. Lift Dust Cleaner to Foundation.
Step 7.Connect and fix the Gas Flue between Dust Cleaner and Economizer .
Step 8. Lift I.D Fan to Foundation
Step 9. Connect and fix the Gas Flue between Dust Cleaner and I.D Fan .
Step 10. Lift and Install Chimney , Connect I.D Fan with Chimney.
Step 11. Install F.D Fan
Step 12. Install Coal Feeder
Step 13. Install Reducer
Step 14. Install Valve&Gauge in Boiler Body
Install Valve&Gauge of Economizer
Step 15. Install Steam Distribution Cylinder,connect Main Steam Pipe and Valve&Gauge.
Customer arrange Steam Pipe Route according to the real situation in their factory.
Step 16. Install Water Pump and Valve&Gauge
Customer arrange Water Pipe Route according to the real situation in their factory.
Vertical Style Stainless Steel Water Pump need Vertically Installation.
Step 17. Install the Light,Motor Electric Wire and Electric Control Cabinet
Customer arrange Electric Wire Route according to the real situation in their factory.
Step 18. Install Water Treatment
All Boiler Installation Finish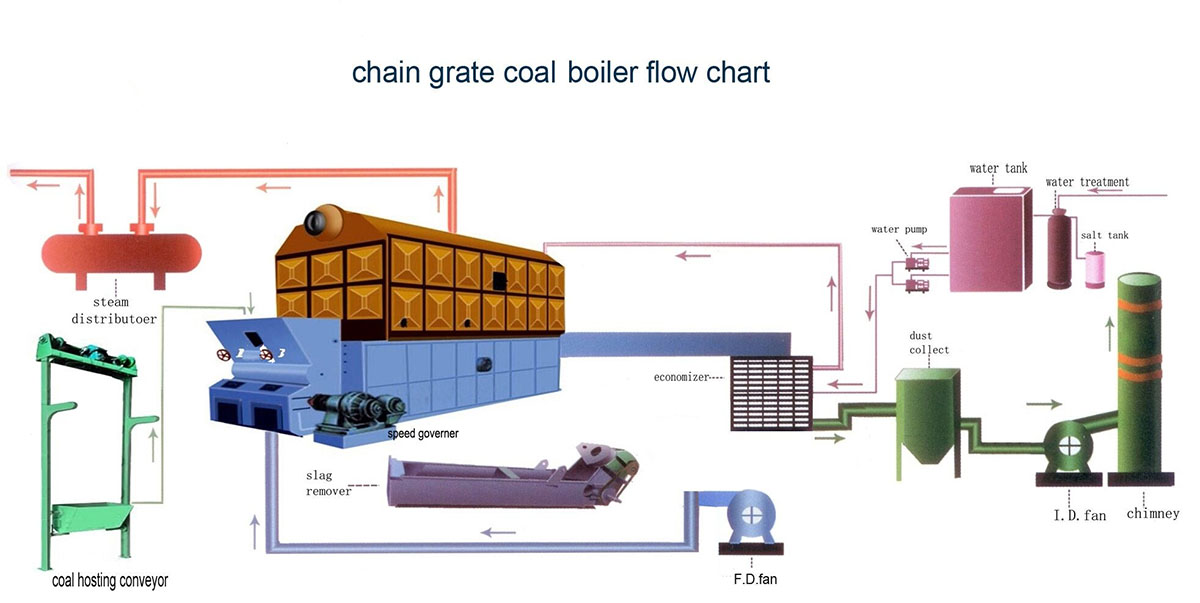 Note: This Procedure was recommended by Double Rings. Real Operation is according to local situation and Manual.   Photos in the paper is just to display.Real Equipments are subject to actual receipt cargo.
Service after Sale:

Warrant Time

One Year for Whole Boiler without mistake operation after shipment.

Technology Service

For life.Customer has any questions about the boiler, our engineers will serve and supply the Technology Service immediately.

Guidance Installation

After finish the foundation and boiler arrived in the customer's factory,two engineers will go to customer's factory to guidance installation with local workers .

Commissioning

After installed, the boiler will be commissioning and training for 2days.

Charge

The buyer should provide air tickets with round trip, accommodation, food and local communication and transportation for the engineers, plus the subsidy  for each engineer.
---
---
Write your message here and send it to us